Whether it's blasting out from supermarket speakers, or being sung by choirs of chirpy school children, once you get into December… Christmas songs are inescapable.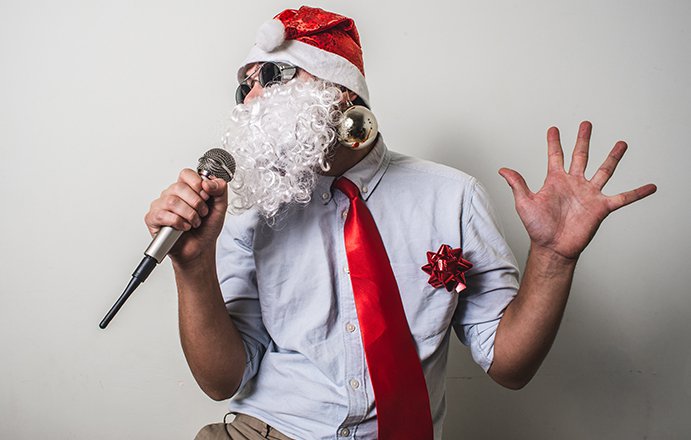 There's no point fighting it and you might as well accept that, for the next month, you're going to be surrounded by Ho Ho Hos and Santa Babys as soon as you venture outside.
Here at Go Mobile it's time to set aside the bah humbuggery and enjoy the festive season. To help you get into the holiday mood we present our top 5 Christmas songs of all time – perfect for your Christmas party.
5. Santa Baby – Eartha Kitt
Covered by everyone from Madonna to Kylie, the 1953 original version by Eartha Kitt is unbeatable. Earning a well-deserved place on our list, no party would be complete without this tongue-in-cheek telling of one woman's wish for a list of extravagant gifts. This would sound perfect on a Beats Pill by Dre – one of our fantastic giveaways this December on Twitter!  
4. All I Want for Christmas is You – Mariah Carey
Originally released in 1994, this song didn't even make it to Number 1 in the UK! However, it certainly has a well-deserved place in our top 5. It's catchier than a Christmas cold and is the perfect ballad to sing at the top of your lungs towards the end of the night. We'll never get bored of this one.
3. White Christmas – Bing Crosby
No Christmas is complete without the vocal talents of Bing Crosby. We're always wishing for a White Christmas and this tune makes us feel all sorts of festive.
2. Last Christmas – Wham!
There are so many winning elements to Wham!'s 1984 solid gold Christmas staple smash. Covered by such diverse talents as Taylor Swift, Coldplay and Crazy Frog; its place in music history is guaranteed. The words 'Merry Christmas' never sounded so sultry. And that's what makes this song so very special (special).
1. Fairytale of New York – Pogues ft Kirsty MacColl
Christmas isn't Christmas without hearing the mildly depressing Fairytale of New York. It's a perfect four-minute narrative of hope, despair and heartbreak. And, despite the profanity, it ends with love. We think it's high time it finally made it to Christmas Number One which is why it's top of our list.
Do you agree with our list? Have we missed your favourite? Let us know in the comments below!
Why not follow us on Facebook and Twitter this December for your chance to WIN some fantastic prizes including a Beats by Dre Pill –  perfect to share your playlist on.