Keep your dad entertained this Father's Day with these fantastic apps.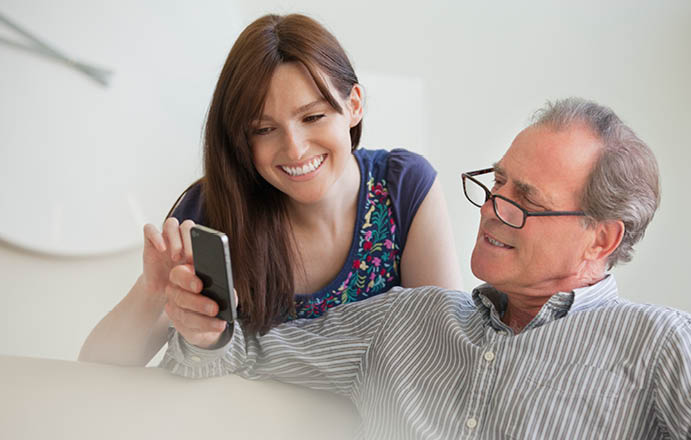 There's a wealth of apps available to appeal to every dad, whether they're interested in sports, the outdoors or food and drink. This Father's Day your phone can help to plan the perfect day. Here at Go Mobile we've done the research so you don't have to.
Sportaholic
Does your dad live and breathe sports? Does he refuse to leave the house on "match days" unless he has a ticket to attend? Do you often hear him agreeing with the TV pundits on their assessments of the game? (You're right Gary, you are!)
There are some fantastic apps you can install to keep your dad in the know, on-the-go. The UEFA Euro 2016 app is a nifty little app which gives you up-to-date information on the tournament. Also, the BBC Sport app has a fantastic little feature which allows you to create a "My Sport" page. Here, you can choose up to 300 interests and all the related news goes directly here. Users can also set alerts for football/F1/cricket/rugby, watch matches and highlights, discover upcoming live events and set reminders.
Foodie
Is your dad more of a foodie? Does he have a favourite ale and has to have his steak cooked just right? Well, what better app then the Good Pub Guide 2016! Although pricey at £4.99, it allows you to plot a route from pub-to-pub and also find reviews for pubs in your area; this will help to find a pub with that obscure ale. Then, he can use the epitome of dad apps: iBeer FREE. Put simply, whenever you're in the app you can tilt your iPhone and it'll simulate you drinking a pint. A sure-fire winner.
Gardener
Your dad might be more of the outdoorsy sort. Treating the garden as his retreat to finally get some peace and quiet away from the ever-increasing thermostat. LikeThatGarden – Flower Identification is perfect for dads who see flowers that they want to plant whilst on a day out. For £2.29 you can take a picture of any flower or butterfly and this app will tell you more about them. If he wants to share some of his floral creations, then get him to download Garden Tags, which is the Instagram of the flower world.
Film-Fanatic
Or maybe your dad prefers to sit indoors and watch the latest blockbuster? To start the day, hand him your phone and the IMDB app so he can meticulously read the plot of each film on offer before making his decision. Then use your local cinema app to check out film times and book. Lastly, the Cinime app allows you to interact with the ads before the film, giving you the chance to win free popcorn and other great competitions.
What kind of dad is yours? Let us know in the comments below!
We're celebrating Father's Day with Fuss Free Phones, offering some great deals on a variety of handsets. Head into store now to find out more. Store locator.