Betty's back from her Brazilian break. Here's how she creates perfectly sharable holiday photos.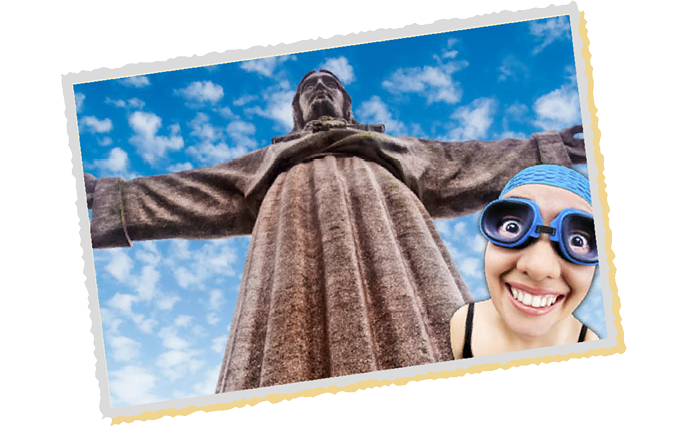 We love holiday photos; you always look like you're having the best time in the world. Whereas you used to have to dig around for a photo album to share your holiday snaps, our phone now lets us take and share professional-looking photographs with everyone back home at the tap of a touch-screen. Romantic sunset? Snap it. Beach tan? Insta it. Fancy restaurant? Check in.
Betty's back from her Brazilian break and wants her photos to be the envy of all of her followers. Luckily, she knows how to perfect her holiday photos and we're going to share her top tips with you.
Step one: the picture.
If you're taking a photo of you and all your friends on holiday, no one wants to precariously balance their phone on a ledge. Selfie sticks are made for those group snaps and we've got some Bluetooth ones in store now for a bargain £14.99! Check out the snap of Betty in front of Christ the Redeemer; instead of awkwardly asking someone to take her photo she just grabbed her selfie stick and snapped away.
Step two: perfecting your photos.
If you're not quite happy with your photos after finding the perfect lighting or view, then it's time to pull out a photo editing app. There are so many available and here are a few of our favourites:
Facetune is the ultimate in photo-editing apps. It allows you to whiten your teeth, smooth your wrinkles and add some great filters. Although sometimes long-winded, with features you'll never use, this will create Insta-ready photographs.
Afterlight is a great little app for anyone that only wants to make slight touch-ups to their photos. It allows you to brighten up and contrast the image, and also has better filters than FaceTune. At below a pound it's great value!
This free app is great to make little touch-ups to your photos. It has some in-app purchases, however the free aspects make it well worth a download. You can remove red eye, blemishes and even add a frame. We'd recommend this app to anyone!
Step three: share.
You've finally got a set of photos you're happy to share but you don't want to spam everyone's feed. That isn't a problem! You can download Layout by Instagram and place your favourite photos all on one post. The app is free and available on iOS and Android.