Go Mobile knows the feeling… As soon as December hits we all turn into headless chickens: realising there's a heap of presents to buy, a meal to plan and Christmas TV to "enjoy". To help, why not download some of these free apps onto your mobile to make your Christmas organising easier.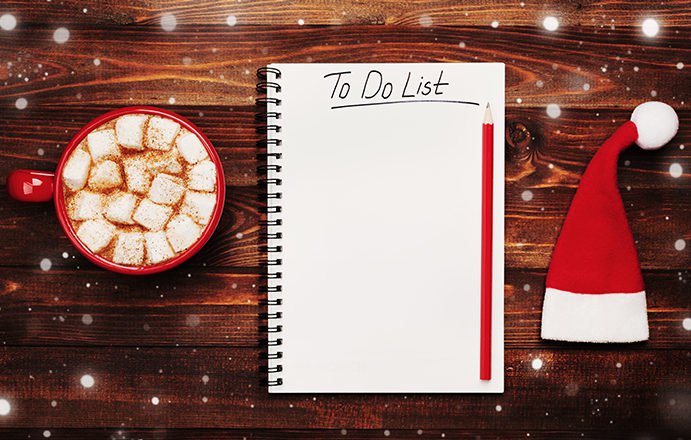 The Christmas List
Firstly, you need to figure out what you're buying and for who. For iPhone users, we'd suggest using Santa's Bag – Christmas Gift List. This nifty app not only has a countdown to the big day but also allows you to separate your list into recipients whilst keeping track of that all-important budget. Not only that, it's passcode protected so no-one can have a sneaky look at what they're receiving this December 25th.
For Android users, we'd suggest using the extremely similar Christmas Gift List. Again, it allows you to track your gift ideas, set a budget and mark gifts as purchased as you do your shopping!
Personalised Cards
Next, you may want to create personalised cards for friends and family. Our favourite is Touchnote. The app, available on iOS and Android, lets you design, write and send personalised cards to any address around the world – perfect to send to your Australian cousins!
Secret Santa
On the off chance that you're involved in Secret Santa, we have the perfect app to pick the gift for you! Secret Santa, available on iOS, asks you a few questions and then lets you spin the tombola to tell you the perfect present. Not all the suggestions are the best but it may help to spark an idea!
The Food
You've sorted all your presents and cards and you're ready for the big day. However, you've agreed to host and have no idea how to cook. We've got you covered: download the BBC Good Food App, available on iOS and Android, for a whole host of festive recipes to keep the whole family happy.
The Entertainment
Lastly, when you've grown exhausted of watching The Wizard of Oz for your 10th consecutive Christmas why not turn away from classic telly and instead use one of the many streaming services to watch some of the best TV and films available. We'd recommend Netflix, Amazon Prime Video or Sky Q. Better yet, if you've got a smart TV why not download Chromecast and play YouTube on your TV: Minecraft videos will surely keep the kids quiet for a few hours!
So, there you have it. These are our top apps to make your Christmas organising that little bit easier. Join us on Facebook and Twitter as we continue our #ChristmasCountdown with some great giveaways. #17Sleeps