In the smartphone world, there are few wars more intense than the one between iOS and Android. Let's take a look at two of the hottest phones in this battle, iPhone 6 and Sony Xperia Z3 Plus.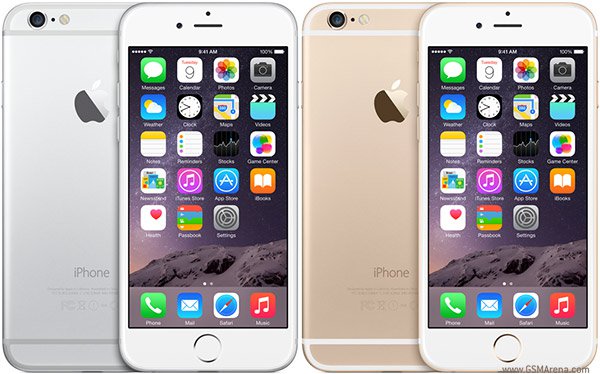 Design
Not much can be said about the beautiful design of iPhone 6 that hasn't already been said before; with that sleek body, it is, quite simply, one of the slimmest, prettiest, most iconic smartphones ever made!
Display
iPhone 6 takes the experience we know and love from previous iPhones, and combines it with a new 4.7-inch screen (plus a higher-than-720p resolution of 750×1334 pixels).
Camera
iPhone 6 includes an 8MP camera, but there's more to it than just raw numbers; it also uses a physically bigger sensor, combined with face detection, HDR and dual-LED flash, to capture beautiful photos.
Power
With a powerful Apple A8 processor, and a version of iOS designed to get the best from that processor (not to mention 1GB of RAM), iPhone 6 is lightning fast, super-responsive, and a joy to use!
Perfect for…
People who want a smartphone that's supremely easy to use and packed with amazing features, and don't want any compromises in design or specs; in other words, people who want one of the best smartphones in the world!
Design
Sony Xperia Z3 Plus shares the same design ethos as its predecessor, with a sleek, slim body shell that looks fantastic, but amazingly, it manages to do that while simultaneously being water-resistant!
Display
Coming in at 5.2-inches, the rich, vibrant 1080p screen on Sony Xperia Z3 Plus is a sight to behold! In keeping with the toughened body, the screen is also scratch-resistant, for extra peace of mind!
Camera
Just like its predecessors, Sony Xperia Z3 Plus has one of the best mobile cameras in the business. Coming in at 20.7MP, and with HDR, the photos taken by this have to be seen to be believed.
Power
With a Snapdragon 810 processor (and a whopping 3GB of RAM), it's fair to say that Sony Xperia Z3 Plus is unspeakably powerful. In fact, it's one of the most powerful superphones on the market!
Perfect for…
People who want a top-end phone that's able to survive, against all odds, in harsher environments. There'd be nothing stopping you reading Kindle ebooks in the bath, which is pretty awesome.