Share your holiday with everyone back home, when you #UpgradeMeHappy.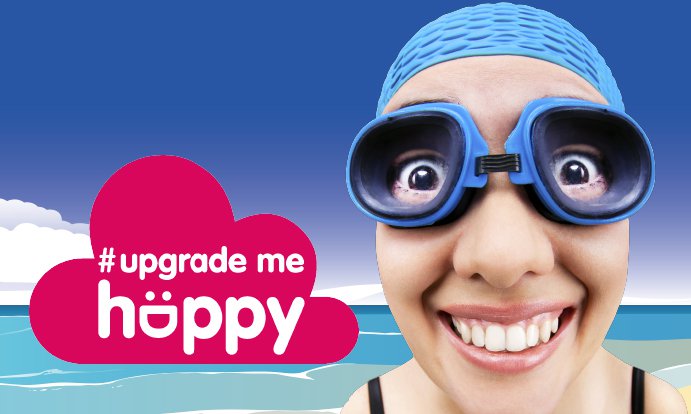 Go Mobile's love of upgrades is no secret. Nor are the awesome perks that we shine down on our customers with when they upgrade with us.
Now that summer has finally arrived – or so we're told – upgrading with Go Mobile is a sunnier experience than ever, with free overseas use of your mobile phone included in the deal.
When you upgrade your handset with us, and join Three, you get automatic access to one of our favourite network perks – Feel At Home.
It's a fantastic service that allows you to use your mobile phone abroad, at no extra cost, in 19 worldwide destinations that include UK hotspots like Spain, Italy and France.
So, basically, with Feel At Home, you can share photos of your hotdog legs with envious friends, whilst gazing out across the beautiful Med. But it's not just data that's freely available, it's everything – so all your minutes and texts too!
But if you'd rather upgrade on EE, that's okay, because our EE Extra plans come with free roaming (texts and calls) when travelling in Europe. You won't have to send any postcards to keep in touch with family back home!
As if that wasn't enough…
We really are passionate about providing the best upgrade for our customers, which is why free calls abroad is just one of the amazing incentives we're offering this summer.
"What else?" we hear you demand… For starters, you don't have to pay anything upfront to upgrade with Go Mobile, which means you get a new phone whilst saving for your upcoming getaway.
We also offer a free month of insurance with your upgrade, which is ideal if you're on an active holiday full of new adventures, or taking selfies by the swimming pool. You'll be covered for all sorts of bumps, drops, scratches and splashes.
And, just to make sure our customers are fully prepared for their vacation, we're including a free gift that could be anything from an Android tablet – perfect for keeping the kids busy on long drives to the coast – to a snazzy Bluetooth speaker – to stream the hottest summer vibes whilst you bask in the sunshine.
Sounds like this could be a pretty epic summer, right? Get in on the action by visiting your local Go Mobile store, and we'll find the best upgrade for you.