Don't just upgrade, #UpgradeMeHappy.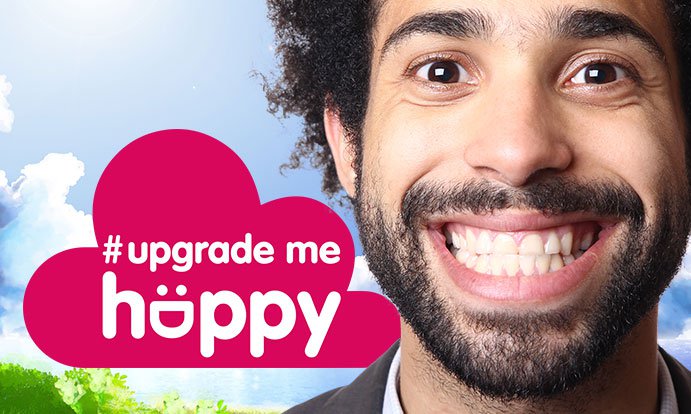 We think upgrading your mobile phone can be a totally awesome experience. Especially when you upgrade with the right people.
Now, we're not going to tell you that's Go Mobile. We'll let you decide for yourself. But we will give you three reasons why upgrading with us might just be the best idea. Possibly ever.
We like to call the event #UpgradeMeHappy, because we believe that upgrading your mobile should make you, well… happy!
1) It's free – and so is the mobile
Yep, upgrading your mobile at the end of your contract doesn't cost a thing, because you can pick from plenty of tariffs that mean you pay nothing upfront for the handset. It's a great way to get the latest mobile phone without spending a penny!
2) You get free insurance
The worst thing you could do the first month you buy a new mobile phone, is break it… with no insurance. That's why we make sure you're looked after for the first 30 days, free of charge. After that, you can stick with our insurance cover for as long as you like, for a small monthly cost.
3) We shower our customers with gifts!
It's nice to be loved, and how better to show it than with a shiny new gift. We like to give our upgrade customers a free gadget when they come to us, usually a popular Android tablet or a trendy Bluetooth speaker.
But that's not all…
Sure, those are the three biggest reasons why upgrading with Go Mobile is an ace idea, but there are actually lots more…
Like early upgrades. We know what it's like when your favourite manufacturer brings out that new phone, and you still have months left on your contract. That's why we're happy to upgrade you whenever you want to, and send you home smiling with the latest and greatest.
And we never oversell. We know it's a downer, signing up for a contract with an untold amount of minutes and data, only to discover you don't actually need half of it. When you upgrade with Go Mobile, we make sure you only pay for what you actually need.
That might be why we're rated EE's number one partner for customer satisfaction… just saying.
So you get the picture. #UpgradeMeHappy isn't just a catchy hashtag, it's what we live and breathe. But you don't have to take our word for it; visit your local Go Mobile store and find out for yourself.